Keeping the summer slide at bay is key especially this summer for most students.
You can find summer reading programs at the Libraries, Old Firehouse Books, Barnes & Noble to keep your reading skills on track and prevent the summer slide. You can also find Local Stores that have workbooks to keep you on track like Learning Express (Fort Collins) or Knowledge Bound (Windsor). There are some online programs for preschool through High School that offer incentives too!
Our favorite is summer reading at the library. We also do this with a workbook or two that interests us.
Local Libraries are KING at summer reading programs and rewards are a free book (sometimes more) for completing the requirements.
Find Your Local Library Reading Challenge!
Clearview Libraries in Windsor/Severance
Our 2022 Summer Adventure Program theme is Oceans of Possibilities, and will run from June 1 - July 29 for all ages.
This year we are featuring Bingo cards that will have a variety of reading and activity-based challenges for patrons to complete all summer long to earn prizes. The Bingo cards will include full instructions and will detail how and when you can receive prizes, as well grand prize entry details. Please visit our Summer Adventure Program page for more details and to register for Summer Adventure Program 2022.
Our special summer programs kick off on June 1 with the Water Festival for all ages from 3-6 p.m. in the Windsor-Severance Library parking lot, and will end with an outdoor carnival for all ages on Saturday, July 30 from 3-7 p.m.
In between, we will be offering a wide variety of programs throughout the summer (all featured for different ages). Check out some of our new and exciting programs including Family Concert: Tiny Mule, Family Trivia Night: The Magnificent Ocean, Teen Nerf Battle, Windsor Grind Skateboard & Scooter Competition, Tween Time: The Lego Guy, Tide Pool Treasures with the Denver Museum, Shark Day!, Sea Stories: Performed by The Story Bakers, Rec & Tech in the Park, and so much more.
Additionally, we will continue to offer our regular programming schedules including Family Art Challenge the first Friday of each month, Lil STEAM on the third Wednesday of the month, Dungeons and Dragons on the first and third Saturdays of the month, book clubs, regular storytime sessions on Tuesdays, Thursdays, and Fridays, and so much more!

Please visit our events website for more programming information.
---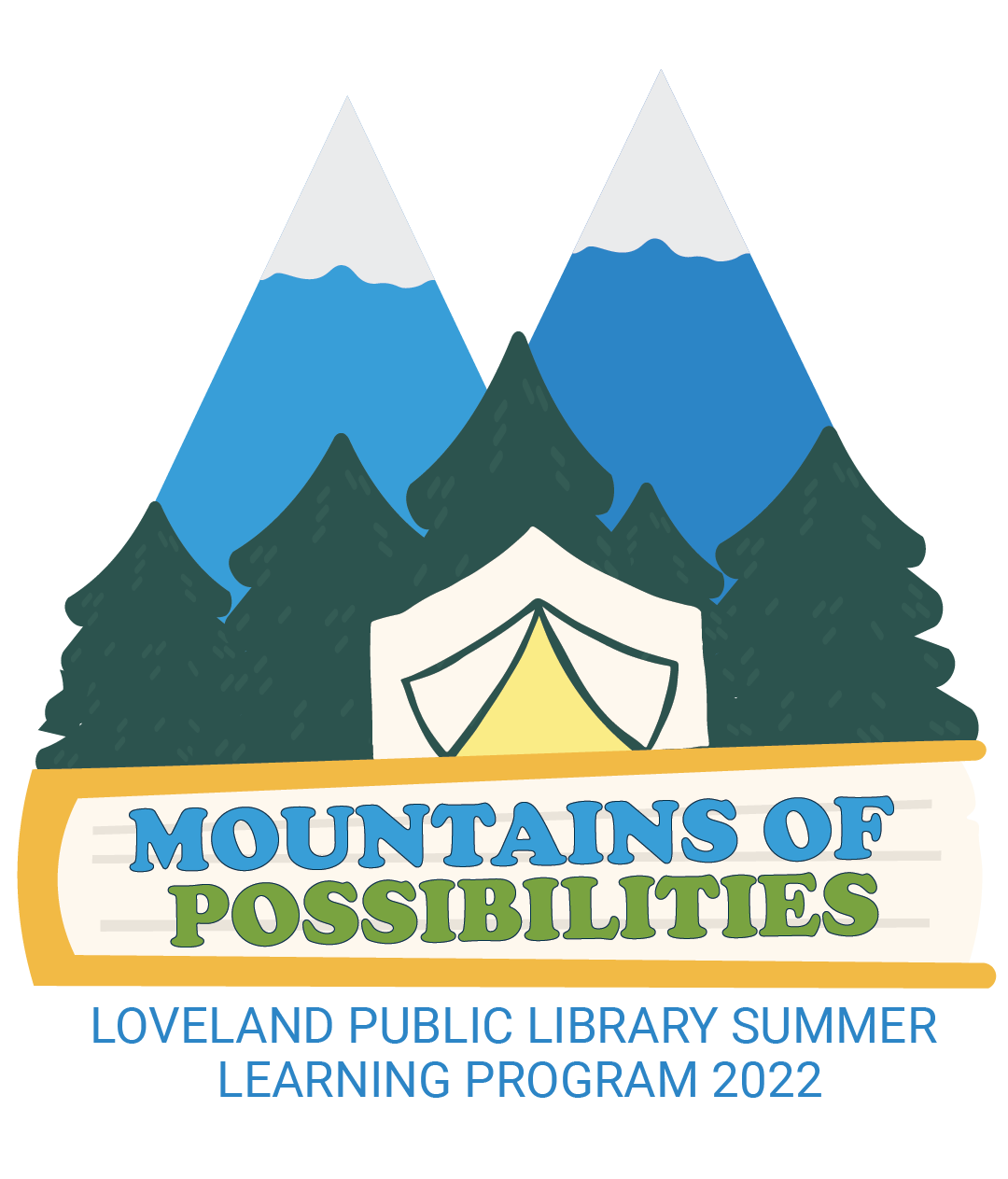 Loveland reading program
The Loveland Public Library Summer Learning Program (SLP) is designed for people of ALL ages to continue exploring throughout the summer and foster a joy of learning.
Participants are invited to Read, Make, Inspire and Explore to log points that can be used to win prizes and enter in raffles. Building on traditional Summer Reading programs, the Summer Learning program recognizes that all types of learning are important. Summer is a great time for self-directed reading and learning that leads to improved comprehension, helps overcome opportunity gaps through high-quality, hands-on programs, and fosters social and emotional development. The Library provides opportunities for our community to be inspired, ask questions, and discover new things. Mountains of Possibilities registration begins June 1 and runs through July 30, 2022.
http://loveland.readsquared.com/
---
Poudre Libraries reading program
Grab your summer gear! The 2022 Summer Reading Challenge at Poudre River Public Library District sets sail with "Oceans of Possibilities" on Monday, May 23 and runs through August 15. Individuals, families, and caregiver groups can sign up online starting May 23 at www.PoudreLibraries.org/src or in-person at one of the three library locations. The free, all ages program features reading challenges, a Bingo challenge, fun programs and activities, and more!

The growing body of research around summer reading and learning is consistent: children and teens lose reading skills and other academic achievement over the summer if they are not provided with quality reading and learning opportunities and access to quality materials. This is compounded in children and teens facing social and economic barriers.

To help "stop the slide," the Library's summer reading program is presented in a fun, social way so kids and teens keep their momentum and carry it with them into the next school year. Plus, it's about having fun and reconnecting with friends. Find out more in our article. Visit http://www.poudrelibraries.org/ for more information and to sign up.
---

Berthoud Community Library Dist.
The Berthoud Community Library is offering a summer learning initiative this year. Participants can structure and complete their own learning goals to earn prizes or drawing tickets. The Berthoud Community Library recognizes that summer is an opportunity to create new, unique experiences for our learning brains and that some folks learn in different ways. We are still offering reading goals that are appropriate for every level, from emerging readers and listeners, to adult readers. Registration for "Ocean Of Possibilities" begins Saturday, May 21, 2022 at 10 a.m.
Berthoud Community Library is partnering with New Freedom Outreach Center to offer weekly family events. All ages can drop in to watch a variety of performers each Wednesday at 2 p.m. from June 1, 2022 - July 20, 2022. We will be hosting the summer end party at the library on July 27th at 2 p.m.
Tweens and teens will have weekly events too, call to register at the library. 970-532-2757
---
Glenn A Jones Johnstown & Milliken
Students may have turned in all of their school books but that doesn't mean their minds should shut down for the summer!
The Glenn A. Jones M.D. Memorial Library has created a fun and entertaining summer reading program that will keep kids learning during their break from school. We will be kicking off our "Oceans of Possibilities" reading program on Tuesday, May 31st, running through Saturday, July 16th. The programs are open to children —and adults — of all ages. Sign up starts May 23rd!
https://librariesrock.org/, @GlennAJonesFB
---
Wellington Public Library
The Summer Reading Program starts June 1st! Registration begins May 16th! If your child is too young to read, you can read to them!
Click on the link below to sign up for the program, and check our website for up-to-date information on summer programs such as TaleWise Storytellers, African Drum and Dance, and all the great prizes we will have available!
https://wellington.colibraries.org/youth/summer-reading-program/
---
Redfeather Public Library
Starting May 20th, READ, mark the log, then turn your reading logs in for PRIZES, available for pickup at the RFL Library.
Books read since May 1st count. (download the ages 0-3 log) (download the ages 4 – 6 reading log)
Use Tumblebooks to read or listen to a story and get an extra PRIZE!
Logs are available at the library and must be turned in by August 13th.
https://redfeather.colibraries.org/summer-reading/
---
Ault Public Library
2022 Summer Reading Adventure Oceans Of Possibilities.
Treasure Hunt: Get an early start on the fun!
---
DIY Summer Reading Program
Just as an FYI. You can create your own summer reading incentive and reward program. Create a list of books that can be earned as they achieve a level you desire them to be at by a designated period of time. Pick out some great incentives possibly a great backpack for your final prize at the end of summer just in time to go back to school. A special night out doing something they truly love. I recommend a step program. Begin your program with easy-to-read books with things that interest your child. Something that will make them feel challenged but give them a running start and confidence (do maybe 2 or 3 books at this level). Give a small reward. I suggest a book or do a chart with stars as an incentive. Then step it up to a little tougher and do 2-3 books again unless you have an avid reader. Then bump it up by another 2 or 3. Again another reward and again keep it small. Then for the last month do something challenging but still manageable. Don't do something that will make them lose confidence or stride. If the difficulty can't be raised. Keep it the same but add another 2-3 books and reward with another small reward. Save the big reward for when the full set of books through the summer is completed. After reading 6-9 books any kid would feel accomplished and ready for the next year. Be sure to not overdo it. You don't want to burn your child out before going back to school, just keep them on track and engaged.
| | | |
| --- | --- | --- |
| | | |
Book Stores
Barnes & Noble
This great program is for all ages. Kid's journals are available for grades 1st to 6th in English and Spanish at Barnes & Noble or online. Information for Educators. Program runs July 1st to August 31st. Participants must read 8 books, tell what their favorite part is and why. Then they can return the book journal to Barnes & Noble and choose one book from a list of books as a reward! All stores participate, 2 closest ones are The Promenade Shops at Centerra 5835 Sky Pond Drive, Loveland 80537 and South College Ave 4045 S College Fort Collins 80525. For more details visit Barnes & Noble web page
Old Firehouse Books
Kids, teens, and adults that sign-up will pledge to read 15 minutes (almost) everyday. Those that do, will get a prize at the end each month they participate! They can also play Book Bingo and be entered in a gift card giveaway. Winners will be picked at the end of August. Kids and parents can stop by the store to sign-up, pick up their reading tracker, Bingo sheet and fill out their pledge card.
If you can't make it in the store, you can print out the materials from this page. Make sure to email with the reader's name, age and school to info@oldfirehousebooks.com with 'Summer Reading' in the subject line.
Follow this link to get the bingo sheets to fill out.
Online Reading Programs:
Colorado Statewide reading program
CSRP offers tips for parents and grandparents to help readers. There are resources covering state, local and other programs. Information can be found here.
Books A Million
Will give you a Diary of a Wimpy Kid backpack when you read any 4 books from this summer reading adventure section. Use their journal.
Scholastic Read-a-palooza
This summer reading challenge runs from April 26th through September 3rd. Enjoy some fun things on the Scholastic site for kids and adults. Tips for parents and educators for summer reading. Join Home Base app full of games and reading for your kids. You'll find downloadable information and trackers along with some great reading resources on the Scholastic site.
Colorado Reading Center
offers a great program for school-age kids. If your child is behind due to dyslexia, comprehension, spelling, writing or just because of this crazy year. They offer online tutoring and support. http://coloradoreading.com/
Intensive writing summer camp At Colorado Reading Center
If your kids love to write or need a little help in this area the intensive writing summer camp is wonderful. http://coloradoreading.com/
PBS has wonderful resources for parents.
From reading to emotions and everything in between, PBS has activities, stories, and games for kids. PBS offers articles and more for parents to help with emotions and more too! If your young reader loves Super Why this is a great program for reading!
Pressbook offers some great tips for the teachable moments and songs to support the early childhood learning and reading skills of this summers reading programs Libraries Rock!
is a great way to get your kids reading! This site offers games, activities, virtual books, insight into characters and author, kids club, reviews, and something for parents and teachers too! Register any time.
Pizza Hut Camp Book It
Register and read for a variety of programs sponsored by Pizza Hut. They offer summer reading, The Literacy Project, National Young Readers Week, Give Me 20 for early childhood readers, and Book It! Book it is specifically for kids 13+. Kids can get free audiobooks!
Summer Camp Reading Program
REGIS University - https://readingprograms.org/Regis - Based in Denver for kids from preschool to 12th grade. This is a proven curriculum from the Regis University and taught by professional instructors from the Institute of Reading Development. Each grade level has a camp set for them. Flexible schedules, weekly one-hour classes, and short structured assignments make it simple for your child to grow as a reader and student over the summer. https://www.regis.edu/About-Regis-University/Campus-Locations.aspx
Chuck E. Cheese
Chuck E. Cheese will give 10 free Play Points (with food purchase) for 2 weeks of reading every day! Use their calendars to track progress for reading and other goal oriented tasks year round. Being a super student, Super Sport, Great Listener, doing homework and chores too! 25 calendars and awards for your kids on their webpage.
AudioFile SYNC Summer Audiobook program 13+
What is SYNC? It's a free summer audiobook program specifically for teens 13+.
How does it work? SYNC offers kids two thematically paired audiobooks each week. The titles drop every Thursday at midnight Eastern time through the summer.
More Online
Star Fall - http://www.starfall.com/ is geared to early reading K-2nd grade. Math is also available and there is an option for Educators and Homeschool. There are Free downloads and paid subscriptions.
Speakaboos - https://www.speakaboos.com/ For Grades K to 2nd. Has Free trial and monthly or yearly memberships. Educator, school district, and Parent options.
Spelling City - https://www.spellingcity.com/ For Grades K-12. Has options for Parents, Educators, School district, & Homeschool with memberships. This program expands vocabulary through games, & reading. This site offers resources such as tutorials for parents, teachers, homeschool, etc.
Reading Eggs – https://readingeggs.com/ For kids 2-13. Reading and math. This site does assessments to see where your child is in his or her reading and math journey and helps them grow to the next level filling in gaps and helping them grow confident.
Book Adventure- https://bookadventure.com/ helps with comprehension not just reading. They have quizzes similar to AR book tests. They have text to speech quizzes for young readers and EEL students. They have an accelerated reader for home and school use. They are also a certified Lexile partner. Unique to this program is a writing lesson. Built in rewards for kids to keep them motivated.
ReadWriteThink is a resource for kids to prevent the summer slide, keep up and at times get ahead. This is a year round tool. It has resources for K-12. Tips and How to's, games, Podcasts, Printouts and so much more.

Ways to get free books:
Check them out at your library: It's a great way to have access to thousands of great books and you don't have to keep them. If you really like a book you can always buy it but most of us who love to read would have thousands of books at home if we kept everything we've ever read. If you do this during the summer reading programs many of the prizes are free books!
Book Crossing http://www.bookcrossing.com/ is a great web page that connects readers with books that have been "released into the wild", so to speak. It's free to join and the potential is endless. It covers over 132 countries so you can get books in other languages from other cultures. The cool part is that it is simple. Have a book you want to release? Easy, Get a Kit, Register the ID# (they will give you) then list it and let it go. There are different levels to participate in but the basic is free.
We all know about Kindle and this article explains how to access free books through different sources.
Not to Be left out. Nook offers a free e-book app.
Borrowing or trading with friends is always popular but as we get a bit older we forget about this one.
Audiobooks can be downloaded for free also. This article gives several to check into.
Ok We all Know Dolly Parton no matter your age. From country music to philanthropy she has done it all. You can get books from Dolly Parton's Imagination Library. She offers books to kids 0-5 and has a tremendous selection of books. Visit her site for free registration
Craig's list offers tons of stuff and if you are looking for books there is a category for that too. Local Craigs lists can be found via google search.
There are always books for all ages and likes at Garage sales and I've found that most will give you a book or two if you ask rather than take them to good will etc. If you ask and especially for kids books most people will just give them to you. I know I'm a softie and just say yes even if I have them labeled.
PaperBack Swap offers another free book option similar to BookCrossing but without the expense of tracking the book. Website for PaperBack Swap.