Who doesn't love McDonalds? Did you know that they offer McDelivery? It's true! McDonald's can now be delivered right to your front door. I have to say that I have always been a fan of McDonald's, (who isn't) and when I heard that they were bringing back the nostalgic Hi-C to the menu, I was pretty excited for my kids to try that taste that brings me back to my childhood. Pair that with the delivery and you can order McDonald's right from the comfort of your own home and in no time, it will show up at your doorstep. The whole experience was pretty simple to complete, and our favorite was the bakers dozen COOKIES!
My girls love McDonald's and with the McDelilvery process, it's very easy and effortless to satisfy their cravings at just about any time of the day. It is nice to have the option for McDelivery. As you can see my 4-year-old couldn't have been happier! The entire process took about 30 minutes from start to finish.

As McDonald's locations continue to open up their lobbies, they have jobs to fill! Job seekers can visit McDonalds.com/careers to learn more and apply to a restaurant near them, or text 'apply' to 36453 to start an application via text.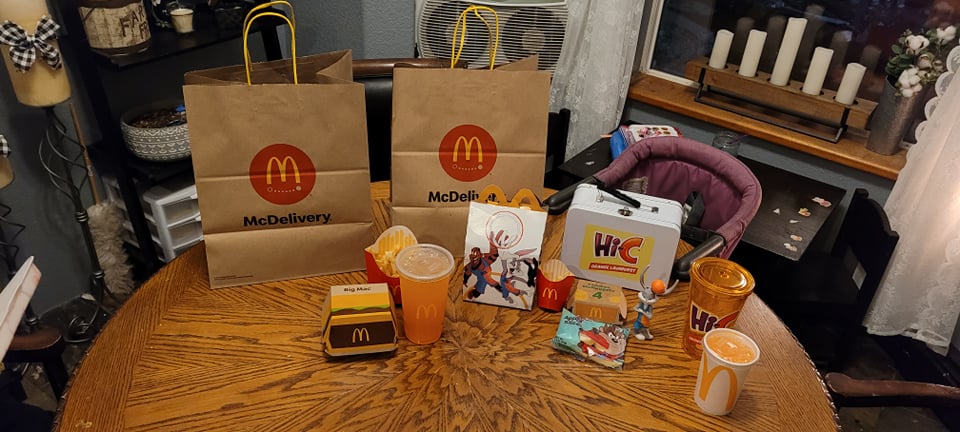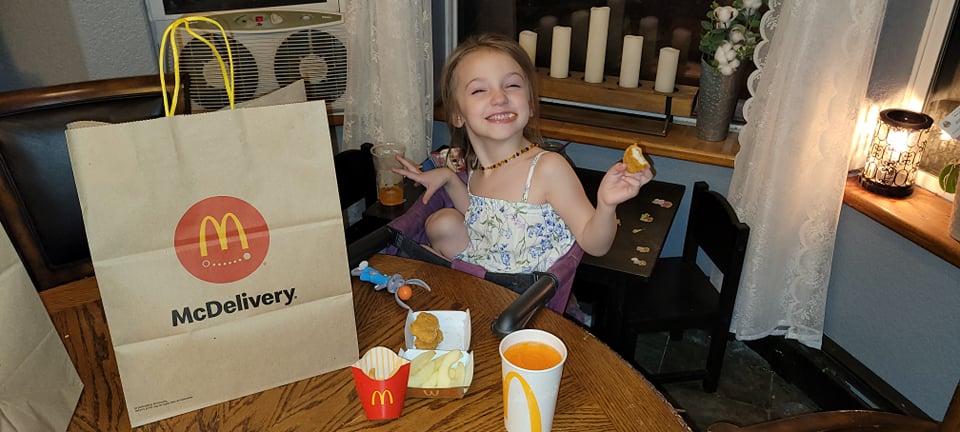 How To Order McDelivery

The ordering process is pretty straight-forward, but here are some quick steps to get started:

1. Download UberEats or DoorDash and create a user account.
2. Enter your delivery address to find your local McDonald's.
3. Follow the prompts to browse the menu, add to your cart, and check out.
| | | |
| --- | --- | --- |
| | | |

Unexpected Benefits of Ordering McDelivery
Food delivery services offer many known conveniences, but I did find some unexpected benefits when ordering McDelivery for my family.
Feeding a family can often be expensive, so seeing an entire menu section dedicated to bundles and promotions was really helpful. In an effort to save time, I probably would've missed something like this and ordered the 'usual' had I gone into the store directly.


I often find myself ordering the same things every time I visit McDonald's- a quarter pounder with cheese and their world-famous fries. Sitting down at my computer to thoroughly browse the menu allowed me to discover some new treats to try: The Classic Pack Big Mac bundle, mango pineapple smoothie, and 13-count cookie tote -- just to name a few.


With food allergies in our family, I can really appreciate the online menu's bright yellow allergy-awareness notes indicating food items with allergen concerns.
Did you Know?
Customers are LOVING that Hi-C Orange at back at McDonald's after it rolled off the menu in 2017! With a fruity flavor that teases your tastebuds it's the perfect addition to any McDonald's meal. The loyal fandom of this deliciously fun and fruity beverage that teases your taste buds dates back to 1955, when it first debuted on McDonald's menus.
Customers who use the DoorDash mobile app to place their McDonald's orders can sign up for a DashPass, DoorDash's nationwide subscription program. For $9.99 a month, DashPass offers its members unlimited $0 delivery fees on orders $10 dollars or more from thousands of participating restaurants.
You can also order McDelivery through Grub Hub. Grubhub is a leading online and mobile food-ordering and delivery marketplace with the largest and most comprehensive network of restaurant partners. Grubhub features over 300,000 restaurants and is proud to partner with more than 225,000 of these restaurants in over 4,000 U.S. cities.
Share your #McDelivery experience with @MacaroniKid!