What little one doesn't want to hear directly from Santa that they are on the good list and that they are going to get something special.
Get your FREE Personalized Santa Letter here!
Macaroni Kid Fort Collins & Macaroni Kid Loveland love helping families find fun. This holiday season is no exception as we have the "in" with Santa and his Elves and are working together to offer a free gift for you! If you would like a FREE personalized letter from Santa himself, sent to you as a PDF that you can print out, you are at the right place. All you have to do is fill out the form and your child's letter will show up in your inbox within minutes!
It's all FREE and our gift to you! Be sure to share this with your friends so they can get their free letters from Santa too!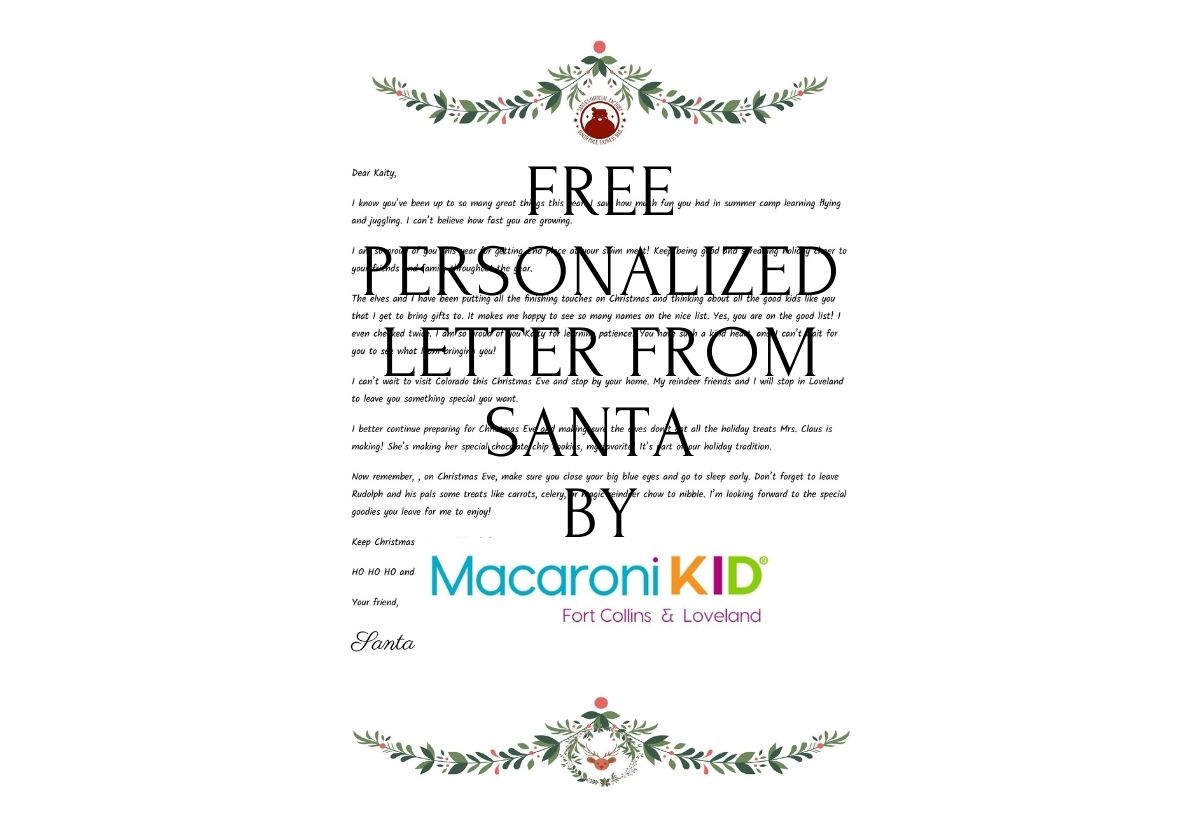 Wishing you a very Merry Christmas and Happy New Year too!

MAGIC REINDEER FOOD
1/2 cup oats
1 tsp red sugar sprinkles
1 tsp green sugar sprinkles
1 tsp silver candy balls (cake decor) optional
Place ingredients into a Ziploc bag and shake to mix. Make sure the bag is zipped shut well.
Otherwise, you'll have a shower of Reindeer food sprinkled throughout your kitchen LOL. We did that.
Put this poem on the baggie for your child.
MAGIC REINDEER FOOD FOR CHRISTMAS EVE NIGHT
(ONLY MAGIC ONE NIGHT OF THE YEAR)
SPRINKLE ON THE LAWN AT NIGHT
THE MOON WILL MAKE IT SPARKLE BRIGHT
AS SANTA'S REINDEER FLY AND ROAM
THIS WILL GUIDE THEM TO YOUR HOME
THIS MAGIC WORKS JUST ONCE A YEAR
SO USE IT ALL, MAKE A PATH CLEAR
TO GUIDE ALL OF SANTA'S REINDEER.