I'm sure you're school is like ours where they don't allow treats or if they do it's pretty specific that they be packages and with no peanut butter, strawberries, gluten etc. If you are looking for some ideas for classroom valentines, goodie bag stuffers, or just something to bring in for the teacher.
Here are just a few ideas that we've loved in the past.
You can do the fun little goodie bag stuffers that can be given to friends and as part of the Valentine's exchange in your child's classroom.
Non-Food items:
Pencils
Erasers
Bouncy Balls
Crayons & Activity/Coloring books/Sketch pad
Stickers
Glow sticks, Bracelets, and other fun "glow" things
Flash cards
Jacks or other simple games
Barretts or hot wheels cars
Mini Books
Bubbles
Hacky Sack
Cute Valentine jewelry like necklaces, bracelets, Light up rings, hair accessories
Fun mini dinosaurs, little pet shops, or other toys in miniature - The blind bags are fun!
Kazoo or other musical mini.
Mini Mazes, or Puzzles
Mini Flashlight
Mini Notebooks
Flower seeds
Note:
Anything from the Dollar Store or Discount Stores in the Holiday aisle or kids section works great for goodies. Try to think out of the box. We've done blind bags, colored pencils, activity books and bouncy balls, put them into a water bottle and they were a hit. We have found multi packs of goodies in bulk ( Party City, and Walmart) to just open and stuff into goodie bags to hand out at the school party. If you are up to it, you can find several fun things to put together from both the holiday aisle and from the kids section at Hobby Lobby, JoAnns, Michaels, Wal-mart, and surprisingly enough you can find some cute containers at Thrift stores that you can use instead of the regular goodie bags. We've found boxes and tiny baskets from thrift that were perfect.
Tips & Tricks:
I do a couple of different things to break up the monotony of the "goodie bag" bags themselves. I gather a bunch of little items and put them into a ziplock baggie, a box or small plastic container that the kids can reuse, a water bottle, or a flower pot or other seasonal item that isn't too expensive or too large.
Fun Idea:
I've actually given a craft in the goodie bags for school as well. Something simple with some of the other items. Like a construction paper heart cut out with stickers and colored pencils with simple instructions so kids can make a quick card at home for Mom, Dad, Grandparents or friends. I've had kids open the bag pull out the cards and make them in the classroom for a friend right there on the spot. The key is to have the heart either pre-cut, or have it drawn on the construction paper so the can easily cut it out. Then have a few stickers (foam ones are great for adding texture) and the colored pencils or crayons that they can write with and decorate the heart. Other crafts have been great as well such as Tissue flowers. Have them pre-cut and the stem wrapped around the tissue so all they have to do is open and fluff the tissue. Then they have flower for their special someone.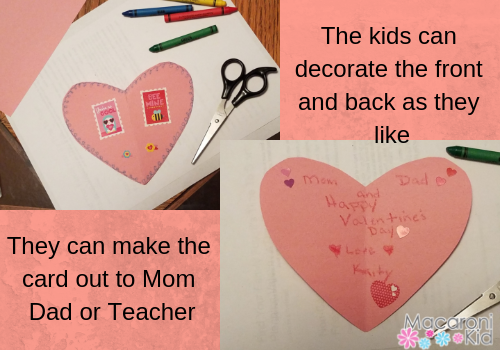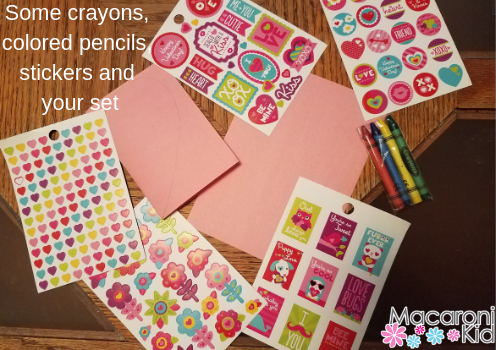 Food but not candy - If allowed:
Animal Crackers
Apple Chips
Fruit Cups
Fruit Leather
Gold Fish Crackers
Granola Bars
Jello Cups
Juice Box
Note:
Snack pack or lunch box size snacks of various kinds. Be sure you check on allergy and sensitivities before you bring in food items and check if the school allows food of any kind.
Teacher Ideas:
Notebooks or Journals with decorative pen
Office supplies, stapler, paper clips, scissors, etc.
I like to do something personal or something from the whole class.
Tissue paper flowers in egg carton pots.
Valentine Heart construction paper photo frame.
Letter telling teacher what makes them special to your child.
Tips & Tricks:
You can find or make a small basket of items like paperclips, pen, note pad (sticky or other), scissors, stapler, etc. I like to find mini size items that can travel from work to home easy. If you know your teacher actually leaves work at work you can do something larger and decorative to dress up the desk. I love the theme ideas as well. The apple is truly popular, but try to find out something that your child's teacher likes. Some interest or something personal that can make your theme for you. If your child's teacher likes flowers, take a flower pot add some green tissue paper, a small notebook, pen, some candy the teacher likes, paper clips, and other office supplies.
Something from the whole class:
Make a box with a slot in the top and have the kids in the class write what they like most about their teacher and give the teacher the ultimate valentine.
Happy Valentine's Day!
Get a FREE kid-friendly event calendar for Loveland CO and Surrounding area full of festivals, fairs, activities, events and more! Sign up by clicking HERE!